Junior League of Great Falls
Would you like to help us financially? Please consider a donation by clicking the link below!
The Junior League of Great Falls is a network of empowered female civic leaders working with community partners to address and solve pressing issues like child abuse and neglect. We're part of an international network of 291 Leagues (AJLI) comprised of over 140,000 women, in Canada, Mexico, the U.K. and the U.S., engaged in similar work in their own communities. This provides us with a unique and powerful depth of knowledge and resourcefulness to bring about the changes we strive to accomplish.
In 1928 two groups of civic minded women joined together to form a community service club, known as the Junior Service League.  After 10 years of dedicated service to the community and meeting several requirements, the Junior Service League, was officially accepted into the Association of Junior Leagues (now the Association of Junior Leagues International, AJLI) in February 1938.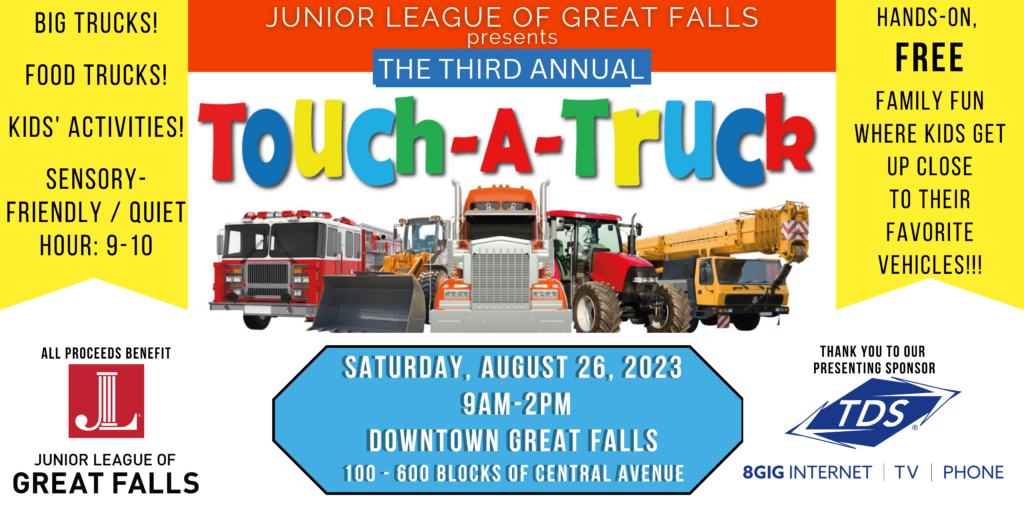 "We are still filling spots for vehicles, machinery, and vendors for TOUCH-A-TRUCK. If you are a business or individual interested in hosting a kid-focused booth – like a kids activity, selling goods or food, or providing information – or bringing your machinery (tractor, backhoe, skid steer, etc.) or cool vehicle (classic car, semi, ATV, RV, etc), please fill out and return this form and sponsorship to Junior League of Great Falls at either 
kaceytroy@gmail.com
 or PO Box 2692, Great Falls, MT 59403 by August 15 to ensure you're included in our printed map."
Join us at a local meeting in Great Falls to learn more. We meet every second Tuesday of the month at Tres65 Studio, 114 Central Ave. Or fill out the form below and a member will contact you.